Spain, is a member state of the European Union located in southwestern Europe on the Iberian Peninsula. Its mainland is bordered to the south and east by the Mediterranean Sea except for a small land boundary with the British Overseas Territory of Gibraltar; to the north by France, Andorra, and the Bay of Biscay; and to the northwest and west by the Atlantic Ocean and Portugal. With an area of 504,030 km, Spain is the second largest country in Western Europe and the European Union after France. Since January 1, 2010, Spain has held the Presidency of the Council of the European Union.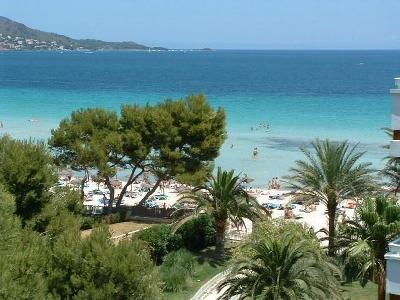 Spanish cuisine consists of a great variety of dishes which stem from differences in geography, culture and climate. It is heavily influenced by seafood available from the waters that surround the country, and reflects the country's deep Mediterranean roots. Spain's extensive history with many cultural influences has led to a unique cuisine.
Tapas
is the name of a wide variety of appetizers, or snacks, in Spanish cuisine. They may be cold (such as mixed olives and cheese) or warm (such as chopitos, which are battered, fried baby squid) In North America and the United Kingdom, as well as in select bars in Spain, tapas has evolved into an entire, and sometimes sophisticated, cuisine. In these countries, patrons of tapas restaurants can order many different tapas and combine them to make a full meal.
In Spain, dinner is usually served between 9 p.m. and 11 p.m. (sometimes as late as 12 midnight), leaving significant time between work and dinner. Therefore, Spaniards often go "bar hopping" and eat tapas in the time between finishing work and having dinner. Since lunch is usually served between 1 and 3 p.m., another common time for tapas is weekend days around noon as a means of socializing before lunch proper at home.
Famous Spanish People (Natives)
Antonio Banderas

Penélope Cruz
Isaac Albeniz

Pau Casals

Manuel de Falla

Enrique Granados

Joaquín Turina
Salvador Dalí

Francisco Goya

Joan Miró

Pablo Picasso

Diego Velázquez

Ignacio Zuloaga

Francisco de Zurbarán
Miguel Bosé

Montserrat Caballé

José Carreras

Plácido Domingo

Enrique Iglesias

Julio Iglesias


Alfredo Kraus

La Pandilla

Raphael

Melody Ruiz Gutiérrez

Alejandro Sanz

Camilo Sesto

Camarón de la Isla
Sports
Severiano Ballesteros - Golfer

Galo Blanco - Tennis Player

Fermin Cacho Ruiz - Athlete, Olympic Gold Medalist

Pedro Carrasco - World Champion Boxer

Javier Castillejo - World Champion Boxer

Juan Carlos Ferrero - Tennis Player

Sergio Garcia - Golfer

Pau Gasol - NA Basketball Player

Luis Miguel González Lucas - Bullfighter

Miguel Induráin - Cyclist

Carlos Moya - Tennis Player

José Maria Olazábal - Golfer

Raúl - Football Player

Carlos Sainz - Rally Driver

Arantxa Sanchez Vicario - Tennis Player

Cristina Sanchez - Bullfighter

Javier Sanchez - Tennis Player
Unique things about Spain:
Tomato Fighting
: Spectators from all over the world are surprised, shocked and impressed each year when they watch the spectacle of tomato fighting. The fiesta is one of the strangest of all Spanish festivals and carnivals is La Tomatina where more than 30,000 semi-naked people gather to throw tomatoes at each other before getting washed down by the hoses of the local fire brigade. It is truly an experience worth experiencing and on the top of the list of things about Spain while visiting the country.
Bull Fighting & Bull Running
: In Spain the bullfight is called the Fiesta Nacional (The national Sport). Bull fighting and bull running of Spain is world famous. It tops the list for things to do in Spain. Bull fighting may be a ritualized killing and is many people's idea of extreme cruelty, but to others the experience of a corrida is a breathtaking and dramatic view of the Spanish psyche.