Population: 11,236,444
GDP per capita: $9,700
Capital with Population: Havana's population is 2,328,000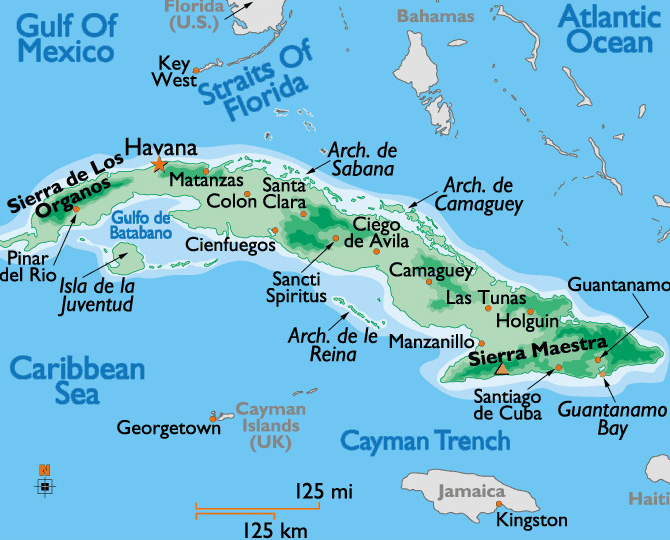 Did you know?
1.The Cubans refer to their island as 'El Cocodrilo' - viewed from above Cuba is believed to resemble a crocodile.
2. When Christopher Columbus first stumbled upon Cuba in 1492 he thought he had landed in China.
3. Despite being a world apart politically, Cuba is only 90 miles away from the US.
4. US law does not forbid US citizens to travel to Cuba - they're just not allowed to spend any money there! - effectively meaning a travel ban.
5. As well as producing some of the world's finest cigars - Cuba also has a knack of producing great sports stars, particularly in boxing, athletics and baseball.
6. In something of a paradox Cuba has one of the best health care systems in the world. The average life expectancy of around 76 years is comparable with that of the UK and US and one of its most successful exports is that of medical technology. Cuban scientists have developed vaccines for hepatitis-B and meningitis-B.
Cuisine
Western cuisine makes wider use of eggs, particularly omelettes (such as tortilla de papa) and fried eggs (huevos à la habanera, fried eggs served over white rice and fried plantains).
Fish dishes are also common, especially in coastal areas, and although Cuba has a well-developed lobster fishing industry, it is used very sparsely. Aside from Cuba's present economic condition, which makes lobster an unreachable food for most families, Cuban cuisine was always of inland origin, therefore fish and sea products are as commonly used as in coastal areas, where crab is another common food staple. Popular fish recipes are enchilado (shrimp, fish, crab or lobster in a sauce that, despite its name, contains no chili), and à la vizcaína, a tomato-based sauce of Basque origin used to cook bacalao (salted cod).
Other Spanish dishes can be found in Cuba, such as the paella, arroz con pollo (chicken cooked with yellow rice much like a paella), and the empanada gallega (which is similar to an English meat pie).
While western Cuba is heavily influenced by its European roots, eastern Cuba (the old Oriente province) is influenced by African and Caribbean cuisines. Perhaps the biggest contribution is the Congrí oriental, which is cooked red beans and rice. This is due to the close proximity to the other Spanish-speaking islands, where red beans are more prevalent than black beans.
Many foods from the Dominican Republic and Puerto Rico can be found in eastern Cuba with their own twists. One example would be the mofongo (called fufú de plátano in Cuba), which is mashed plantains stuffed with pork, chicken, or seafood. The name "fufu" comes from Western Africa.
Famous Cubans
Cuban literature is most famous for its poetry and essays. The influential Afro-Cuban tradition has been explored by Cuban scholars, most notably by
Fernando Ortiz
(1881–1916), jurist and ethnographer. Another leading writer was
José Antonio Saco
(1797–1879), author of a six-volume history of slavery.
Ernesto Lecuona
(1896–1963) was a composer of popular music
Juan José Sicre (
b.1898) is Cuba's outstanding sculptor.
Camilo Cienfuegos
(d.1959).
Cubans notable in literature include poet
Nicolás Guillén
(1902–89) and playwright and novelist
Alejo Carpentier y Valmont
(1904–80).
Alicia Alonso
(b.1921), a noted ballerina, founded the National Ballet of Cuba.
Many people would be surprised how many Cuban Americans in the United States have achieved fame in the world of entertainment. While there are many more who fit this category, below are just a few of the most well known.
Desi Arnaz may be one of the most famous Cuban Americans to achieve fame in the entertainment industry. Born in Santiago, Cuba, Arnaz moved to the United States to be a part of the big band movement. While his original career was in music, his break into film came when he met and married Lucille Ball. Soon thereafter, the couple became the stars of the television show "I Love Lucy." In addition, Arnaz and his wife established Desilu Productions.
In modern times, the well-known actor, Andy Garcia is a Cuban American who has achieved fame. Garcia was born in Havana, with the name of Andres Arturo Garcia Menendez. Garcia moved to the United States at a young age and eventually became a well established actor, starring in such films as "The Godfather Part III," "When a Man Loves a Woman," and "The Lost City."
Further famous Cuban Americans in the entertainment industry include Eddie Cibrian, Rosario Dawson, Daisy Fuentes, Eva Mendes, Cesar Romero, and Jamie-Lynn Sigler.
Gloria Estefan began her career in her home of Havana Cuba. However, she went on to become one of the most established Latin singers in the United States. Throughout her career, Estefan has taken home seven Grammy's, and her songs have reached top one hundred billboards time and again. Her music, which includes a significant Latin influence, includes such well known pieces as "Rhythm is Gonna Get You" and "Anything for You."

Cuba will have an exhibit at the festival this year. Come check them out September 4th and 5th, 2010 at Southridge Mall!